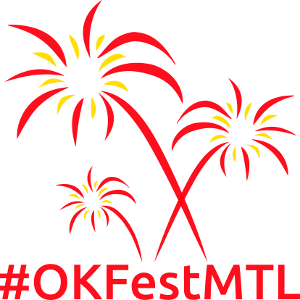 Festival of the accessible, free and participative Web networks
Ce message est également disponible en : Français
Program of the April 12, 2016
Room at the Palais des congrès : 524b
Flash presentations (10 minutes).
This is "Montréal-style" event where participants can use either French or English.
 
Schedule
Title | Speaker
09:00
Welcome address | Éric Bégin
Video message from Pavel Richter, CEO, Open Knowledge International.
Brief address from Jim Hendler, of the organizing committee of the WWW2016.
09:15
Documenter les Communs à l'aide des données liées ouvertes | Yves Otis – Percolab
(Documenting the commons with open linked data).
9:30
La participation des citoyens dans l'utilisation des données ouvertes au
niveau municipal | Julien Hivon
(The participation of citizens and the use of open data at the municipal level)
09:45
Données ouvertes et contrats publics : l'évolution d'une expérience citoyenne | Pascal Robichaud
(Open data and public contracts : the evolution of a citizens' experience)
10:00
Open-Ouvert : Federal Open Government Initiatives | Initiatives fédérales relatives au gouvernement ouvert | Allison O'Beirne – Canada, Treasury Board Secretariat.
10:15
Lounge
10:45
Le Calendrier de l'avent du domaine public | Marie D. Martel et Josée Plamondon – Bookcamp Montréal
(The Advent Calendar of the public domain)
11:00
Une culture de liberté et d'ouverture | Alexandre Enkerli – Vitrine technologie-éducation
(A culture of freedom and openness)
11:15
Modèles d'affaires pour le contenu ouvert | Chitu Okoli – John Molson School of Business, Concordia University
(Business models for open content)
11:30
Intellectuels avertis, branchés, et engagés! | Dahlia Beristain Gil
(Informed, connected and engaged intellectuals)
11:45
Message from Diane Mercier, Ambassador of the Open Knowledge Foundation in Canada.
12:00
Community lunch in the lounge.
13:30
Présentation des projet de l'OKFN | Diane Mercier – Groupe local de l'Open Knowledge
(Presentation of the OKFN projects)
13:45
UNIPSED.net : Projet libre et collaboratif d'informations en intervention psychosociale | Marc-Olivier Schüle – Unipsed.net
(UNIPSED.net : A free and collaborative information project on psychosocial intervention)
14:00
Logiciels libres, économie collaborative et Web 2.0 | Pierre Schallum – ISTEAH
(Free software, collaborative economy and Web 2.0)
14:15
R project in the Google Summer of Code | Toby Hocking – Montreal R user group
14:30
Le « Deep Learning » au service des sciences de l'information | Éric Bégin – inLibro
(The "Deep Learning" to the service of information sciences)
14:45
Lounge
15:15
L'appropriation collective de l'informatique libre et vous | Mathieu Gauthier-Pilote – FACiL, Pour l'appropriation collective de l'informatique libre
(The collective appropriation of free computing and you)
15:30
Web solidaire et justice cognitive en Afrique francophone | Thomas Hervé Mboa – Association science et bien commun
(Supportive Web and cognitive justice in Francophone Africa)
15:45
Connecting nodes in the Montreal Data community | Vaughn DiMarco – MTL Data
16:00
Un projet éditorial novateur pour une science ouverte, au service du bien commun | Émilie Tremblay – Éditions science et bien commun / Association science et bien commun
(An innovative editorial project for open science, to serve the common good)
16:15
Open Licencing in Practice: Overcoming Challenges and Myths | Mallory Knodel – Association for Progressive Communications
16:30
Closing Remarks | Josée Plamondon
 
Co-located with WWW2016.ca
Other sponsors

The Open Knowledge Festival of Montreal aims to strengthen networking among open communities in the region of Montreal and in Quebec – practitioners, researchers and interested citizens. It provides a showcase of initiatives that enables discoveries and a feedback area.
---
Other sponsors