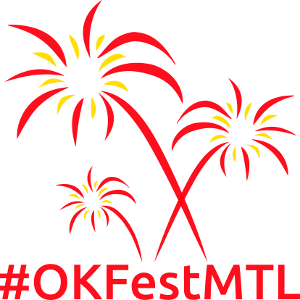 Festival and showcase of the
accessible, open and participative Web
Ce message est également disponible en : Français
A call for volunteers wishing to contribute to an event promoting the development of an accessible, free and participative Web and co-located with WWW2016.ca
Date: April 12, 2016

Location: Palais des congrès de Montréal

Program of the day
Context
The Open Knowledge Festival of Montreal is a single-day event, on Tuesday, April 12, 2016, at Palais des Congrès. This event is hosted at the site of the 25th International World Wide Web Conference. Our festival is organized by the Canadian section of the Open Knowledge Foundation, an organisation which seeks to promote Open Data, Open Governance, Open Education, Open Access, and the Open Web.
The program for #OKFestMtl is simple: bringing together those who contribute to the development of an accessible, free and participative Web to engage in thoughtful action and exchange of ideas.
Volunteering at the Event
To make this happen, we need a few volunteers who can help us out during the day. Though direct training will not be provided, the team will be able to learn together during an engaging event.
We are looking for people interested in any of the following:
Promoting issues such as Open Governance, Free Software, Open Access, and Digital Citizenship.
Practicing their skills or gain experience in event logistics, hospitality, or social media outreach.
Learning about Open Data, Citizen Journalism, International Development, or Open Education.
Because the event will be bilingual, some skills in both French and English are essential.
Roles
We need people to fulfill roles in the following categories:
Social Media and Reporting
Hospitality and Registration
Timekeeping and General assistance
Social Media and Reporting
Issues of Open Data, Open Governance, and Digital Democracy run at the core of fascinating conversations, both online and off. During #OKFestMtl, participants will be encouraged to share content through social media. We need someone to help them out in prompting them or responding to them through those channels.
As events like #OKFestMtl are about constructing knowledge, documenting the process is also quite important. As such, we welcome the opportunity to work with a student reporter, citizen journalist, or other person interested in reporting an event in thoughtful ways.
Hospitality and Registration
Community building is an important dimension of an event like the Open Knowledge Festival of Montreal. Part of that process is eased by having people who are able to welcome participants and guide them during the #OKFestMtl event. Bilinguals who enjoy interacting with diverse people can apply for volunteer positions in the conference room, the lounge area, and the registration desk.
Timekeeping and General assistance
As a short event involving a tight schedule, help with logistics will be greatly appreciated. A well-organised individual can help us with keeping time and ensuring that the event runs smoothly.
Contact
Those interested in helping us out can contact Alex Enkerli for more information or to apply.
#OKFestMTL: A co-located event of the WWW2016.ca
Other sponsors

The Open Knowledge Festival of Montreal aims to strengthen networking among open communities in the region of Montreal and in Quebec – practitioners, researchers and interested citizens. It provides a showcase of initiatives that enables discoveries and a feedback area.